World War II dominated the Early to mid-Forties. Following the end of the war, the start of the Baby Boomer Years, Technology advancements during wartime, including the Jet Engine, Nuclear Fusion, Radar, Rocket Technology, and others, later became the starting points for Space Exploration and Improved Air Travel.
The Forties Inventions
The Year Invented Inventors and Country or attributed to First Use
45 rpm Record —– 1949 USA
Artificial Intelligence —– 1947 England by Alan Turing
Atomic Bomb —– 1945 USA by Robert Oppenheimer's team
Atomic Power —– 1942 USA by Enrico Fermi's team creating a first self-sustaining chain reaction
Aqualung —– 1943 France by J Cousteau and E Gagnon
Automation —– 1946 USA by Henry Ford
Computer —– 1948 England by Freddie William's team
Guided Missile —– 1942 Germany by Werner von Braun
Hologram —– 1947 Hungary by Denis Gabor
Kidney Dialysis —– 1944 Netherlands by Willem Kolff
Long Playing Record LP —– 1948 USA made of vinyl and played at 33 rpm
Microwave Oven —– 1946 USA by Percy L Spencer
Mobile Phone —– 1947 USA
Transistor —– 1947 USA from Bell Laboratories
Velcro —– 1948 Switzerland by George de Mestral

The Forties Money and Inflation
To provide an estimate of inflation, we have given a guide to the value of $100 US Dollars for the first year in the decade to the equivalent in today's money:
If you have $100 Converted from 1940 to 2020, it would be equivalent to $1843.64 today
In 1940 a new house cost $3,920.00 and by 1949 was $7,450.00
The average income per year was $1,725.00 and by 1949 was $2,950.00
A gallon of gas was 11 cents and by 1949, was 17 cents
The average cost of a new car was $850.00 and by 1949, was $1,420.00
Here are a few more prices from the '40s and how much things cost:
100 aspirin 76 cents
Philco Refrigerator $239.00
Pork Loin Roast per pound 45 cents
Nylon Hose 20 cents
New Emerson Bedroom Radio 1938 $19.65
Men's Suits from $24.50
Portable electric heater $42.50
Ford Super Deluxe Sedan Coupe $1395
The Forties Popular Culture
The late '30s and the war in the '40s changed many things, and one of those was how black sportsmen became famous heroes and paved the way for future generations; these included Joe Louis ( Boxer ), Jesse Owens ( Runner ), and Jackie Robinson ( Baseball Player ).
Some of the Most Well Known Movie Stars of the Forties
Clark Gable
Bob Hope
Bing Crosby
Humphrey Bogart
Abbott and Costello
Gary Cooper
Spencer Tracy
James Cagney
Forties Fashion
Practicality was of great essence during this time. Clothing was meant to cover the body and was designed for the busy men and women working during this time.
The Forties Homes
Additional amenities of a Forties home include items considered necessities by today's building standards. For instance, a hot water heater, barbecue patio, double garage, and/or heating system would be included in the sale of a specific home. The exterior of a home built during this decade was often of red brick siding, and the interior home flooring was often of hardwood, just as in earlier decades. Other luxuries of homes included newly-installed roofing, kitchen cupboards, spacious rooms, and thermostat-controlled heat.
The Forties Air Travel
The onset of the Second World War meant developments in commercial aviation were put on the back burner, and all resources were plunged into the war effort. However, by the decade's end, the industry was recovering, especially since the war had given rise to new runways, and military aircraft could be converted and put to commercial use. 
The cabin crew of c/n MSN 2022 N86501 Lockheed L049 Constellation 'Star of the Persian Gulf' welcomes the passengers on board in 1946.
Zoggavia collection 
This 1947 shot shows c/n MSN 2503 NC86520 Pan American World Airways 'Clipper America,' a Lockheed L749A Constellation, returning from the first round-the-world flight New York LGA to New York LGA by a commercial airliner 17. - 30 June 1947. This aircraft is currently part of the Musée de l'Air at Paris Le Bourget airport. Zoggavia collection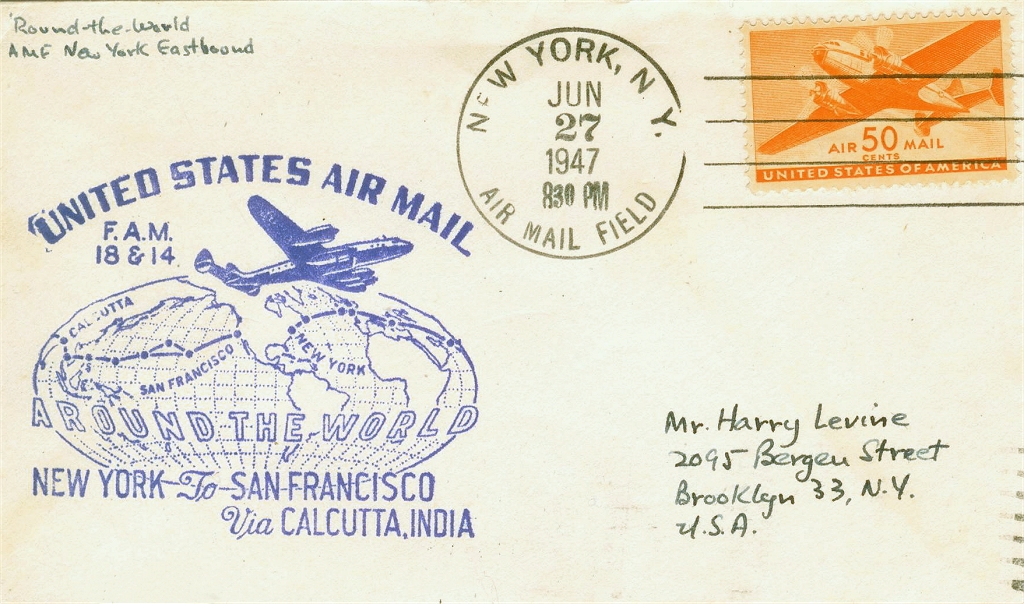 The 1940s was the decade that preceded the so-called "golden age of travel."
As competition increased towards the end of this decade, significant airlines ramped up their advertising.
This TWA poster advertises the Boeing 307 Stratoliner and promises a smooth ride as the aircraft glides above the clouds. 
C/N MSN 1940 NC19907 Boeing 307 Stratoliner in Transcontinental & Western, later Trans World Airlines (TWA), colors at Chicago Municipal Airport in 1940. On May 6, 1940, TWA took delivery of its first Stratoliner. The first four-engine airplane to join TWA's fleet, it was fast, it was roomy, and it was pressurized. TWA and the airline industry have taken a big step forward. Zoggavia collection 
This enabled the Stratoliner to fly above most bad weather, providing a faster and smoother ride. Magnificent view on one of the four Wright GR-1820-G105A Cyclone piston engines developing 1100hp each. Zoggavia collection 
The 307 was conceived as a comfortable commercial airplane with a 33-passenger capacity. This comfort comes from its pressurized interior, allowing it to cruise at 6,000 meters (20,000 feet) while maintaining a cabin pressure of 2438 meters (8000 ft). Zoggavia collection 


The Stratoliner incorporated the wings, tail, and engines of the Boeing B-17 bomber. The wide fuselage was fitted with sleeper berths and reclining seats. Ten Stratoliners were built. The prototype was lost in an accident, but TWA ordered five and Pan American Airways operated three B307s. Zoggavia collection